Protecting the literal roof over your head is a big deal. There are many elements in the south that can impact the health of your residential roofing. And while no one wants to think about the cost or effort involved with total roof replacement, it's important to remember that making the right call to replace versus repair can make the difference of whether you're doing preventative work or major damage control. Hiring the right team you can trust will make or break any home renovation project, and roof replacement for Dallas homes is no exception!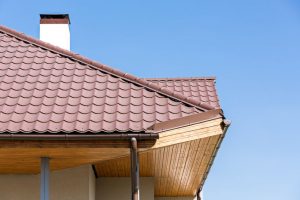 Call (214)-838-1125 today if you have any concerns about your existing home roof, and we can help you assess options for replacement! We offer a variety of roofing styles and materials, and will make sure a new roof enhances the beauty of your residence, as well as provides a solid layer of protection over you and your family.
When the wind is gusting or hail storms are imminent, are you cowering with fingers crossed, or confidently enjoying time with your loved ones? We consider it a big part of what we do to ensure the latter for our prized customers, and know that the referrals we receive are a testament to that. In fact, given the nature of the materials we use and the work we do, we consider it a job well done if we don't hear from our customers for a while. American Pride Roofing builds roofs that stand the test of time and hold up in the southern climate, no matter what crazy weather comes our way in DFW!
When Do I Need To Replace My Home's Roof?
There are many factors we consider when it's time to determine whether extensive repair work or replacement is the best course of action for a client's roof. Some customers call us knowing that they need replacement or new roof installation for their residence, while others aren't sure if the repairs are too much to justify the work to the existing materials.
Whether you're concerned about cracking shingles, suspect leaks, or have extensive flashing damage, don't wait to call us for a thorough evaluation! 
One of the biggest considerations when it comes to deciding when to replace your home roofing is, of course, cost. If the on-going repairs that are going to be needed to sustain your current metal, shingled, or tile roof are not only costly, but could potentially result in far more laborious repairs to your attic or crucial structural components of your house, it's time to opt for a full roof replacement. This is not an area where shortcuts should be taken, as they could compromise the very safety of your entire house. We won't let that happen, so don't delay on calling in a Dallas, TX roofing experience that you can trust to help you make the right call for the long-haul.
When determining replacement versus repair, we consider:
Age
Budget
Condition
Damage
Installation
Materials
Previous repair work
And a variable we can't ignore: your unique circumstances. We take care of our neighbors, so we need to understand the full situation when it comes to making this call for the benefit of your house. Our roofing experts make the time to consider all the various angles we could come at the job, and to ensure we're taking the best care of you and your family that we can.
Dilemma: Stick With The Old Or Try Something New With Roof Replacement?
While it may be hard to look at it this way in the midst of unexpected costs and downtime, home repairs are often a great opportunity to try something new to create the place you've always dreamed of. If you're going to have to do the work, might as well embrace the silver lining and make the update even better than before. Residential roof replacement is no exception, and we'd love to help you make the most of your time and budget by giving you a brand-new roof that makes your home look more beautiful than ever!
In the case of unexpected emergency roof repairs, such as hail or storm damage, we can help you put your insurance allowance toward the best materials available to resist future weather damage and increase the longevity of this installation job. One benefit of full replacement is that we can ensure every layer and aspect of your new roof is completed to our high standards, and don't risk chasing our tails with patchy repairs overlapping on unknown variables. We've seen clients bear the hefty burden when insisting on repairs versus replacement, and the fallout isn't pretty. Ripping off the old materials and starting from scratch is the best way to know that the warranty of materials and workmanship is secure and reliable.
Give us a ring at (214)-838-1125 to discuss all your options for roofing! No need to navigate this journey all on your own.
There are pros and cons to all the options we have for homeowners as they contemplate roof work, and we are more than happy to sit down with you and discuss the best contenders for your unique needs. There is no one-size-fits-all approach to any home updates, and we know that having all the information available as you make critical decisions can go a long way in your satisfaction with the final result. After all, it's your home! You are in the driver's seat, and it's our job to support you and your family by offering our expertise and recommendations, letting you make the final call for us to execute.
Dreaming Of Metal Roofs
The popularity of new metal roofs continues to hold, and we see more and more homeowners opt for metal as the material of choice for accent roofing or even the whole shebang. Considering that these roofs can outlast most people these days, this is a fine choice of material for replacement that should last far longer than you own the property.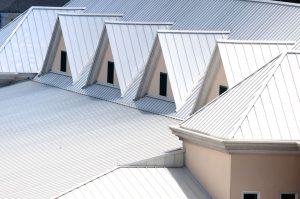 We'll be the first to admit that metal roofing isn't cheap, but there is very little maintenance required and incredible strength, it's a fantastic investment for your home. We don't know many — if any — homeowners who regularly climb up on their roof to inspect for damages and ensure everything is in working order; it's usually a leak or issue that alerts our clients to a need, and by then it may be a bigger mess than if discovered earlier. But the beauty of a high-quality metal roof is that there is less risk for degradation, and therefore some buffer to our natural inability to keep an eye on the top of our homes.
One of the trends we've enjoyed when it comes to metal roofing is using this option as an accent to highlight certain areas of your property, such as a detached garage, shed, or patio. Metal awnings are a fantastic way to provide protection over windows while still enhancing the exterior beauty. This will last longer than canvas awnings, especially in the brutal hail storms our area is known to endure, but you'll still achieve the visual interest and curb appeal.
Tile Roof Replacement Lasts And Lasts… And Lasts
If longevity with minimal maintenance is your goal, then tile roofing is your match made in Heaven. This premium roofing material can last up to 100 years! And talk about options…you can customize the look of your home as modern, eclectic, funky, or timeless, all within the spectrum of tile.
We offer roof replacement using the following tile types:
Ceramic
Clay
Concrete
Slate
Spanish tile
Drive along any given neighborhood, and see if any residential roofs jump out at you. Chances are, those roofs are constructed of tile. The distinctive look of this material is hard to match and even more difficult to ignore. Even the most elaborate, distinguished property is taken to the next level when a tile roof is applied as the cherry on top!
Tile roofs have a long history across the globe, and it's not uncommon to see entire communities topped with tile given the superior performance and unique aesthetic. We are happy to offer tile roofing to Dallas residents and all of the DFW metroplex, and can show you a variety of styles and colors to consider for your home renovations.
Quality Installation Is Everything In Roofing
It's worth noting as we tout the benefits of metal roofs for replacement that you are not going to get near the lifespan out of any material — metal, tile, shingle, or otherwise — if you don't have licensed, experienced professional roofers doing the job. Warranties are void if the work isn't done properly, and you'll have a heck of a time getting the true value from an insurance claim if the install was done haphazardly or poorly. We see this all the time, unfortunately, and it's a crime that some people take advantage of trusting homeowners. (This is especially common in the wake of local storm damage, when drifters flood the DFW area to capitalize on quickly-needed repairs at the expense of desperate neighbors.)
At American Pride Roofing, we welcome questions about the work we do, and will walk you through the installation process from start to finish! Our guys are the best roofers in Dallas, so we don't have any problem talking to our clients as we work on making their homes safer and more secure. That's our job, and we aim to do it exceedingly well!
Another area where we take great pride is our level of respect for your whole property. We've heard complaints about other roofers (and home repair professionals in general) who trash the landscaping and exterior grounds in the process of major reconstruction, and that is simply unacceptable in our book. Our team respects the effort you put into the grounds of your home every weekend, whether it's perfectly pruned flower beds, a dedicated garden, historic bricked walkways, or just a really beautiful bed of Saint Augustine. Your whole home is important to us, and we will respectfully do the work we were hired to do while keeping a tidy footprint, and discussing in advance with you anything that is subject to damage in order for us to get the job done.
Keeping It Simple: Replacing A Shingle Roof
Asphalt shingle roofs are the most common material we see when it comes to roofing in Dallas, TX. And that's not by accident. Shingle roofs are cost-effective, durable, and easy to install. They don't require a lot of maintenance, but given the extreme temps we see in the south, it's important to have the shingles checked every few years to keep cracking and leaking at bay. Simple patches can be employed if it's just a shingle or two impacted, but if you're looking at large-scale damage, it's important to act promptly to replace the shingle roofing with fresh materials.
Though materials like metal and tile are really popular, especially in high-end neighborhoods, a good ol' shingle roof can still be very attractive. With a more approachable price point than some of the other premium roofing materials we install, there's no shame in opting for full replacement using shingles, especially if it means the difference between actively preventing damage or waiting with your fingers crossed.
There are many different shades and looks to choose from when it comes to asphalt and three-tab shingles, so you can still achieve a custom, classy look for your home. Curb appeal is something we take seriously, as we understand the incredible impact it has on resale value and pride in home-owners. We can help you select tones that compliment your existing exterior, or give a little push when what you're going for is bold and dashing. We're here for all of it, and our job is just to ensure that whichever material or look you decide, it's installed perfectly. Form and function matter, and we're your partner to help you nail both!
Looks Can Be Deceiving For Evaluating Roof Repairs and Replacement
There may be nary a shingle out of place on your entire roof, and yet the whole thing could be a strong storm away from flooding your home's interior. Appearance doesn't tell the whole story, which is why an aging or damaged roof should always be evaluated thoroughly by a roofing professional. When in doubt, call for a check! 
Just as you wouldn't go into the sweltering Texas summer without ensuring your air conditioner is in good working order, you don't want to fair the tempestuous seasons without knowing that your roof can take whatever the elements will bring. After all, we know firsthand that Dallas can see snow, sleet, wind, hail, and three-digit temps all in the same season (if not a single month), so you can't afford to assume your roof is ready for all that.
Don't Assume The Worst: Call For A Free Roofing Evaluation
If you suspect your roof could use some love, don't assume you're going to have to spend a small fortune and hold back from calling. The sooner you call us at (214)-838-1125, the sooner we can face any potential issues head on. We aren't going to insist that you need a total replacement of your existing roof if we can trade out a few shingles or tiles. That's not how we operate, and our mission is to gain you as a lifelong customer and referral source. So we're not going to take advantage or put our neighbors in a tough spot.
However, if it's time, it's time. We're not going to tell you that your roof is fine if it's not. Sugar coating the reality of roof damage doesn't serve anyone, so you can trust that if we recommend total roof replacement, it's because that is the only course of action that makes sense. Absolutely, we take into consideration cost, safety, and the well-being of your family. Our roofers have been in business a long time, so we know what variables count and how to best steer our valued clients to make the right decision for the here and now…and for the long-run.
Your Home Is Unique, And So Is Our Approach To Roof Replacement
Homes that have seen a lot of turnover may be subject to the unfortunate reality of patchwork repairs that are done on the basis of (low) cost and not truly in the best long-term interest of the house itself. Whether you're a landlord or the owner of a frequently-turned-over residence, remember that short-term decisions can often cost you big in the end.
We know that not every roof we work on is atop a Forever Home, so our role is to help you navigate the available options that keep this reality in mind, but that also prevent serious or even harmful damages at bay. Even if you anticipate selling your place in the next decade, a faulty roof could create a massive headache as you move toward closing or face mandatory home inspections, and could severely impact your bottom line.
The Best Roofing Replacement Team In Dallas, TX
Total roof replacement jobs are not for the faint of heart. There is a lot of sweat and precision involved in doing it right, and our team is the best for managing every little detail of the project. From design and inception, to removal of the old roofing and structural evaluation, to the final stages of installation and flashing work, we know exactly what we're doing. Roof replacement is not a DIY job, nor should you cut corners when it comes to finding the right guys to execute your new roofing.
If any aspect of the job isn't done right, not only is the warranty in jeopardy, but your very home is at risk. Having to replace the entire ceiling in your home is a dirty, complicated job that directly impacts your family. Don't risk interior leaks and a compromised exterior by hiring "bargain" roofers who don't have the expertise and resources to do it not only right, but exceedingly well.
Roofs can last anywhere from fifteen to one-hundred years, depending on the materials used, so even if you're not replacing the roof on your forever home, consider the economic and environmental benefit of doing it well from the get-go.
We have installed over 5000 roofs. We've seen it all, and we've overcome the elements and fought through the variables on any given roof replacement. Trust us to take care of this for you!
Reputation Is Important When Hiring Roofers
Our 22+ years of expertise in roofing has introduced us to many, many homeowners that we've been honored to serve. We are incredibly proud of our stellar reputation, and our beaming reviews speak for themselves. American Pride Roofing stands on a foundation of excellent work, coupled with industry-leading practices and safety standards. Our team is fully insured and bonded, which means that we bear the risk when it comes to total roof replacements and working on-site at our clients' homes.
We're also your neighbors. We understand what it's like to live in Dallas, TX, and we're proud to be part of this unique and wonderful culture here in the south. What works in San Diego or Chicago won't fare the same in DFW, so we tailor every quote and job to not only our customers and their needs, but also to what benefits our community and will hold up to our (sometimes crazy) climate. Historic homes and modern builds, and anything in between, we love residential properties and are so excited to partner with local homeowners to bring stability and beauty to their prized property. After all, our home is our biggest investment for most of us, so it's our honor when you chose our team to do what we do best for you.
Call Us Now For A Free Roof Replacement Consultation
Don't guess any longer. Reach out to us at (214)-838-1125 and get the true picture of what your roof needs to provide security to your beautiful home. It's easy to ignore, out of sight, out of mind. But we don't want that emergent call in the middle of the night (though we're here for you when you need us!). Let us give you a home roof replacement evaluation and provide the expertise you depend on to make the right decision for your whole family. We're here to support you!